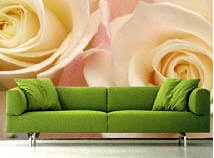 Brighten up your living space with Storprint's customised Wall Prints. Tailor made to fit the space in your life.
Choose from 2 different finishes; sand or matt.
Naturally your final print size and sharpness will be dependant on the quality of your digital file.
Generally, as a quick guide we require 72 pixels per inch (ppi) or 28 pixels per cm over the entire image. Anything lower than this, for example images copied from the web, will be 'pixelated'.
We would be happy to assist in selecting and possibly refining your production file.