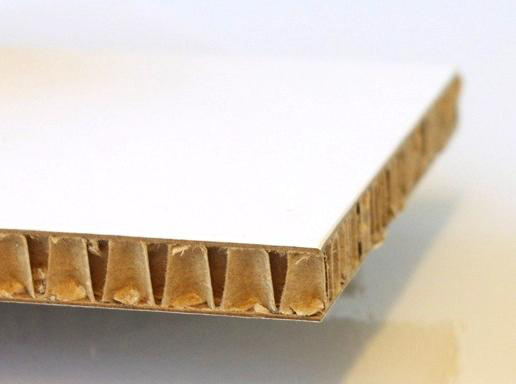 Re-board® is the most versatile board material available today and uniquely responds to the market need for function and form, coupled with sustainability.
Manufactured in Sweden, Re-board® is a patented paper based board with a unique engineered fluted core. It is incredibly lightweight yet exceptionally strong. In fact the strongest board of it's kind available today. Re-board® has good planar flatness and provides thermal insulation and protection from different environmental conditions. An embedded moisture barrier protects the core and the physical properties remain unchanged in humid conditions. It is durable, contains no harmful components and is form stable. And because it utilising waterbased adhesives, Re-board® can be recycled as paper in normal waste paper streams.
The unique engineered fluted core enables a Re-board® sheet to be rapidly cut into any conceivable shape. Re-board® can be digitally printed or finished with decorative laminates to achieve stunning results. A flame retardant version is available upon request.
Tested in accordance with Euro Standard EN 13501-1:2007, this version of Re-board® is rated Euroclass "C" or German Standard DIN 4102-1 "B1".
Some examples